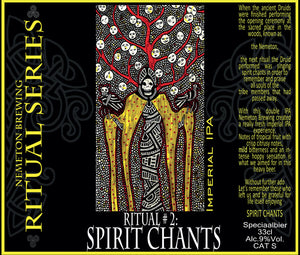 Ritual #2: Spirit Chants (Imperial IPA)
Regular price
€1,99
Sale price
€3,85
Ritual#2: SPIRIT CHANTS VINTAGE!!!
Imperial IPA
This is a vintage beer. The expiration date has passed, but still great to drink!
With this Imperial IPA, Nemeton Brewing created a truly refreshing IPA experience. Flavors of tropical fruit with fresh citrus notes, a mild bitterness and an intense hoppy sensation is what we strive for in this beer.
With a mild bitterness, this is a wonderfully accessible IPA for everyone (including people who don't like IPA).
The second ritual performed by the druid was the singing of so-called 'spirit chants' (Spirit Chants) to honor and commemorate the souls of all tribesmen who had passed away.