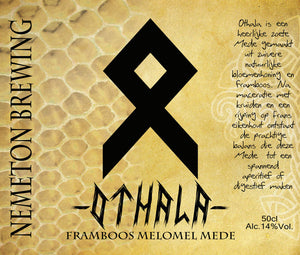 Othala (Raspberry Melomel Mead 14%)
Our Othala Raspberry Melomel is one of the first meads we ever made and many people have enjoyed it in the past.

Flower honey in combination with raspberry. An addition of a bouquet of herbs and maturation on French oak (chips). These combinations make a balanced aperitif or digestif with a touch of sweetness from the honey.
This is an exciting drink!
Give it a try and enjoy this beautiful mead.