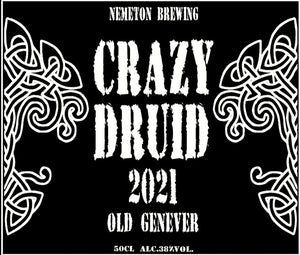 Crazy Druid 2021 Old Genever Limited Edition (Old Genever)
Oude Genever 38%. An exclusive Oude Genever according to the recipe of our brewmaster. Traditionally made in collaboration with Schouten Distillery. This old genever has a very soft character due to the use of no less than 32% malt wine. In the botanical part of the distillation, 38 plant parts, herbs and blossoms are used. This Oude Genever gives a Gin Tonic an extra deep and soft taste, but can of course also be enjoyed ice-cold neat.
Presented in a handmade screenprint bottle with wax seal, Crazy Druid makes a beautiful gift during the holidays or simply as a gift for yourself.
Only 777 numbered bottles made!
 These bottles are not shipped by Nemeton Brewing, but due to the permits they will be shipped directly to you from Schouten Distilleries.
0.5L bottle